Join us at the Hui Noʻeau Visual Arts Center along with artist Mike Neal where we will explain what it means to enter MWA.  We will share ideas on how to research species "Native to Maui Nui" along with what the eligibility requirements are for the exhibit.  EMWP and Hui staff will be on hand to answer questions about the exhibit and confirm any species you might already have in mind. Resources will be available if you still need to find inspiration.
 Tuesday, July 5th
5pm-6pm
Hui Noʻeau Visual Arts Center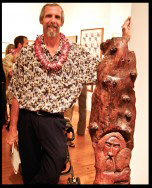 Artist Mike Neal is a self pronounced "jack of all trades". He has worked in restaurants, commercial painting, ministry, and construction.  But it was not until he turned fifty that he decided to explore his interest in woodworking and photography.  In them he found a passion and expression of the things that excite him about Hawaiʻi. His nature photography and woodwork focus on endangered rare birds, sea life and the breathtaking land and seascapes. He has been entering MWA since 2008 and has experience on how to research, as an artist, for this exhibit.